Being a frequent visitor of link-aggregation sites like Proggit and HN, I frequently find myself bookmarking interesting articles for "future read". Previously, I used Xmarks, and later Firefox sync, for keeping these bookmarks synced across machines (I use at least 3 different regularly).
However, with an iPad joining my arsenal of geeky gadgets, I had to find a more complete solution. An iPad is wonderful for reading articles "later" on the couch, reducing total time spent staring at a real computer screen.
After some looking around, I came upon Read It Later - which is a set of tools designed exactly for what I need.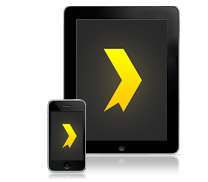 Read It Later (RIL) allows me to do the following:
With a Firefox plugin, I can now save any article I want to read for future reference with a simple keyboard shortcut. Naturally, this article will be available on all computers for which I installed RIL and synced with my account.
An iPad app allows me to immediately be able to read this article on my iPad - even offline.
A bookmarklet for iPad's Safari browser allows me to save articles to read later from the iPad as well.
I played with the free version of the app for a couple of weeks just to make sure that's what I need and then bought the full version. I'm not sure that the full version gives me real benefits over the free one, but it was cheap ($3) and I wanted to have a way to thank the author of RIL for his excellent work.